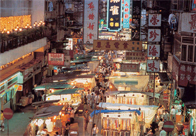 Temple Street comes to life at dusk, Traffic stops, People swarm, And hundreds of little stalls appear out of nowhere. This is the famed Temple Street Night Market. Carts bulge with goods, from casual clothing to mobile phones and watches. You might be able to buy all your souvenirs here. If you're lucky, you'll encounter impromtu Chinese street opera, fortune-tellers, even street dentists. Food stalls abound too, serving up snacks and dishes. If everything looks clean and you're hungry, then pull up a chair. The market opens daily from 4:00pm to midnight. Most people go after 7:00pm.
TRANSPORTATION :-
1. Use MTR Jordan Station Exit A, turn right through Jordan Road and turn right at Temple Street
2. Use MTR Yaumatei Station Exit C, walk through Man Ming Lane to Temple Street
3. You can also walk to the destination for about 5 min from Goodrich Hotel.